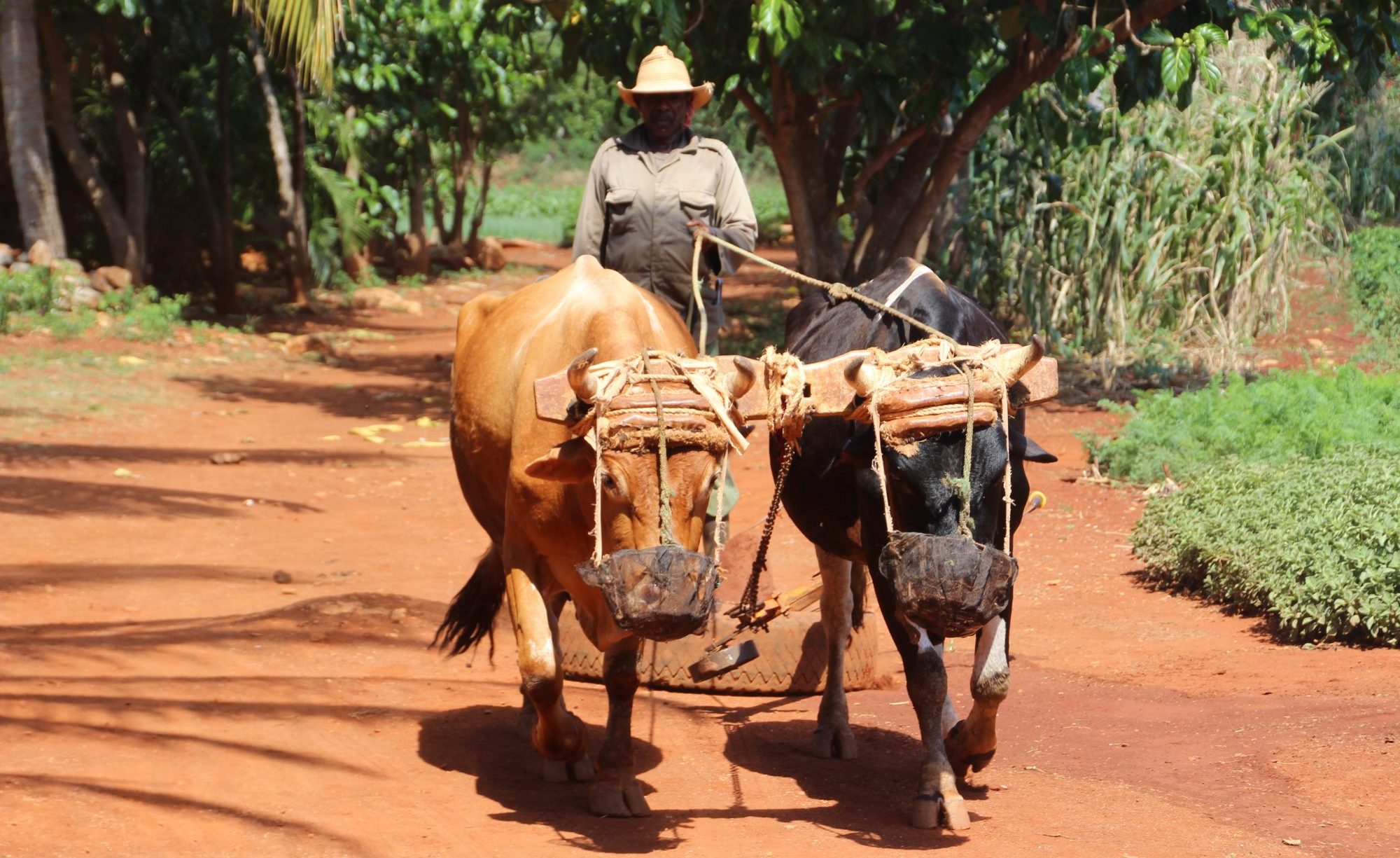 College Faculty & Students Forge Partnerships with Cuban Counterparts
By Jason M. Sheldon
UConn is expanding its global engagement to the shores of Cuba with the help of faculty members and students from the College of Agriculture, Health and Natural Resources. A June conference at the Instituto de Ciencia Animal provided an opportunity for UConn to share its collaborative spirit with Cuba, now possible with the re-establishment of diplomatic relations with the United States last year.
Students Gabrielle West, Gabriela Murillo and Jacques Julien made the journey to Cuba to present their research at Interjoven 2016, the VII Encuentro Internacional de Jóvenes Agropecuarios. The international conference focuses on engaging researchers, producers and technicians from around the world on topics related to the development of sustainable agricultural production and beneficial health initiatives. The conference also hopes to inspire youth in the country to become involved and invested in agricultural production, which has steadily declined over the years.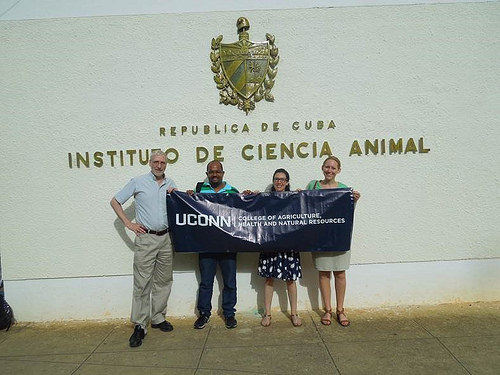 West and Murillo are PhD students in the Department of Nutritional Sciences. West discussed lipoprotein particles in connection with using fish oil to address cardiovascular health issues. Murillo presented her research on liver function in guinea pigs, studying processes that occur in many other animals. Julien is a PhD candidate in Department of Agricultural and Resource Economics (ARE) whose research focuses on farm size and productivity. The students were accompanied by soil scientist Cristian Schulthess, associate professor in the Department of Plant Science and Landscape Architecture, who learned about the soil concerns of Cuban farmers and businesses, including hazardous waste in urban gardens, nutrient process retention and soil salinity.
It was biostatistician Tania Huedo-Medina, assistant professor in the Department of Allied Health Sciences, who encouraged the group members to submit proposals to the conference. With the gradual lifting of the US embargo against Cuba, Huedo-Medina has recognized the potential for partnerships with the island nation. She has been working on behalf of UConn to establish relationships, with the assistance and support of Daniel Weiner, UConn's Vice President for Global Affairs, and Jeff Seemann, Vice President for Research. Huedo-Medina is director of the Biostatistics Core for the Institute for Collaboration on Health, Intervention and Policy (InCHIP) and is working with different researchers, including InCHIP director Jeffrey Fisher, to initiate health-related research projects with Cuban researchers. Huedo-Medina has already been able to collect verbal agreements for collaborative health research from seven institutions and aims to continue strengthening ties between Cuba and UConn, exemplified by the representatives attending Interjoven 2016. The benefits of cultural exchange, shared scientific knowledge and promotion of health initiatives are the focus in these partnerships.
Huedo-Medina first traveled to Cuba in November of 2015. "After my initial trip I was able to connect with people from the Institute of Animal Sciences and the National Center for Animal and Plant Science," she explains. "They were very interested in doing any type of collaboration with UConn." Colleagues from the College, including Guillermo Risatti, associate professor the Department of Pathobiology and Veterinary Science, and Boris Bravo-Ureta, professor in ARE, provided additional support to Huedo-Medina, putting her in touch with other Cuban researchers to help facilitate partnerships. "Then in March, when I went back, I had the opportunity to meet with many members of the Institute and the National Center, including their business director and the head of international relations. They were wonderful hosts and together we created an agenda," Huedo-Medina says. "The first item on it was what we could do to start this partnership and they suggested the Interjoven 2016 conference. They hoped we could send students and believed it would be a first great step to meeting Cuban researchers." She quickly found Schulthess and the students eager to share their knowledge and represent UConn at the conference.
With limited funds available from the Cuban government to attract researchers and US federal funding still off-limits, Huedo-Medina sought and received funding for the trip from Global Affairs, the College's international programs committee, Associate Dean for Academic Programs Cameron Faustman and Dean Gregory Weidemann. Her belief is that when grant funding does become available, UConn will have laid the foundation for awards that can facilitate collaboration between the two countries. The students also received funding from the Emanuel "Mike" Hirth Family Endowment Fund Scholarship. Julien explains why it was important to bring UConn to Cuba. "Cuban researchers don't have the opportunity to travel as easily outside of the country so they want to work with UConn to help publish work, present it and receive recognition for the important research being completed at their institutions. UConn can help do that."
The students and Schulthess all commented on the friendliness and resourcefulness of the Cuban people. "Everyone was so kind, nice, and generous whether it was with food, hospitality, welcoming us to the conference; they were very eager to establish relationships," West says. Murillo explains, "They wanted to know where we were from, if we were comfortable, and it was a great exchange of ideas. It was a lot of networking as there were not only Cuban researchers, but also people from Argentina, Ecuador and many other countries." Though only there for a week, group members contributed to improving relations and making connections. They helped plant trees during their time off from the conference and were greeted by residents happy to speak with visitors about their lives. Schulthess assisted in the assembly and maintenance of laboratory equipment. Machinery had been obtained from China, yet the language barrier and absence of manuals made use of the technology difficult. Communications technology in Cuba is limited; internet access is considered a luxury. Schulthess has been corresponding consistently with Cuban institutions and trying to acquire equipment instructional manuals on their behalf. He has also been working to extend the number of students traveling to Cuba and the duration of their visits.
Schulthess is developing a course to take students to Cuba to study the country's agricultural history. The course will explore the effects of geography, ecology and soil, examining their roles in production of sugar cane and tobacco, main exports of Cuban agriculture. Schulthess views the class as a way to instruct students using an interdisciplinary approach, incorporating culture, language and history into environmental studies. "I want to pay particular attention to the 1953 to 1959 era, the Cuban Revolution," Schulthess elaborates, "determining what impact ecology and geography, for example the use of forests and mountains, had on the guerrilla warfare." He wants to teach the class jointly with Cuban instructors. "I already have two Cuban faculty members who have volunteered and they are already sending me their proposals for the course." He envisions students traveling around the country from three weeks to a month. "All of this is tentative though," Schulthess says.
The UConn group's participation in Interjoven 2016 and other contact group members made will likely facilitate adoption of the memoranda of agreements with institutions and organizations in Cuba currently being drafted, formalizing the verbal agreements Huedo-Medina has already obtained. During the trip, Schulthess, West, Murillo and Julien all demonstrated the embrace of diversity and exercise of leadership valued by UConn. They serve as models for the success to come as more students, faculty members and researchers participate in this burgeoning cultural exchange.
"We are hoping to continue with more collaborations very soon," says Huedo-Medina. "They are excited by the prospect of partnering with UConn and it's an indication that they see UConn on a high level in regards to research. It's an opportunity to grow and move science forward."
Originally posted on Naturally@UConn.
---